Truth
Mar 2019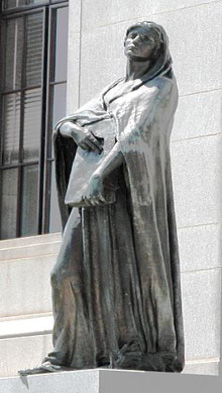 Statue of Veritas
Truth is most often used to mean "in accord with fact or reality". But what is the reality?
According to a survey of 3,226 professional philosophers, 45% of respondents accept correspondence theories of truth. 21% deflationary theories and 14% epistemic theories. Correspondence theories emphasize that true beliefs correspond to the actual state of affairs. Deflationary theories hold that the predicate "true" is an expressive convenience, not the name of a property requiring deep analysis. And epistemic theories generally question attitudes or doubt towards knowledge ascribing truth. For example, we can know little or nothing about the "big questions" in life, such as whether God exists or whether there is an afterlife.
Nagarjuna as early as 150 AD, contrasted conventional truths describing our daily experience as concrete versus the real ultimate universal truths free from the duality of apprehender and apprehended. The interdependent nature of reality, dependent origination, is a translation of the Sanskrit pratityasamutpada. The natural law is that all phenomena arise "dependent upon" their own causes "in connection with" their individual conditions free from inherent existence.
Likewise today, with the discovery of quantum mechanics, we find tiny sub-atomic objects in our vast silent universe exist in a haze of probability. They have a certain chance of being at point A another chance of being at point B and so on. Until now in classical Newtonian physics, objects only existed in a specific place at a specific time. Albert Einstein adds:"Anyone who doesn't take truth seriously in small matters cannot be trusted in large ones either".
Of course, we might ask, in reality what is the truth?
"The greatest triumphs of propaganda have been accomplished, not by doing something, but by refraining from doing. 'Great is the truth', but still greater... is silence about truth."
-Aldous Huxley, Brave New World (1946)